Tropical Marine Construction is the Preferred SWFL Marine Contractor For Transforming Waterfront Dreams into Reality
With so many waterfront construction companies, builders and contractors in the area, how do you know the best construction companies for achieving your personal waterfront living construction goals? Tropical Marine Construction, Cape Coral and Lee County's preferred full service residential and commercial marine contractor, has been exceeding customer expectations for more than 24 years. We are dedicated to providing individualized personal and professional marine construction services that transform customer visualizations for waterfront property into reality. Whether you are considering adding decks and docks, a palapa or other outdoor structure our marine construction services builders will transform your waterfront to fit your dreams. Have you considered adding a boat lift or boat house, or repairing waterfront support walls? Our Cape Coral dock builders and marine contractors will assist you in from custom design, procurement of every necessary building permit, construction, installation to the final inspection of your new decks and docks and waterfront construction.
As Fully Licensed, Insured and Qualified Florida Marine Construction Services Company, We Meet All City, County, State and Federal Laws and permit regulations.
Tropical Marine Construction holds a Florida contractor license (State License - #CBC1260600), is fully insured and meets all legal and safety requirements for Florida marine contractors. No construction begins until we have secured all the necessary permit documents. Similarly, our job is not complete until all building inspections are passed and we have delivered the finished product that our customer wants and expects. This policy applies to all our specialized marine construction services, including:
Boat Decks and Docks Design and Construction
Boat Lift Installation
Boat Lift Repair and Maintenance
Deck and Dock Repairs
Piling Installation
PWC and Jet Ski Lift Installation
PWC and Jet Ski Lift Repair and Maintenance
Seawall and Waterfront Anchor Wall Repairs
Outdoor Thatched Palm Hut Design and Construction
Kayak Docks and Floating Docks Construction and Repair
Used Boat Lifts Purchase and Sale
For personalized and professional marine construction and repair services at reasonable prices, contact Cape Coral and Lee County Waterfront Owners' Preferred Marine Contractor
When you're ready to find a waterfront contractor for new construction or repairs that will help you increase your waterfront living enjoyment, call Tropical Marine Construction at 239.542.1104. When you do, you will understand why we have earned the reputation as Cape Coral and Lee County's preferred waterfront contractor among marine construction services.
Tropical Marine Construction Boat Lift Repair and Installation!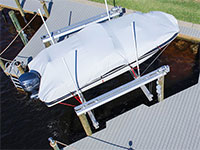 Boat Lift U.S. Up-N-Over PWC Jet Ski Lift